Description
Voopoo Drag X PNP X Kit
VooPoo Drag X Pod Mod Kit 80W 18650 Battery 2ml PnP Pod Coils adjustable airflow system
Available colours:
• Carbon Fiber
• Bronze Knight
• Chestnut
• Classic
• Dark Knight
• Galaxy Blue
• Marsala
• Mashup
• Retro
How to charge
• Easy to charge via Type-C USB port. When battery indicate that is full, disconnect the wire. Never leave connected for night time.
How to fill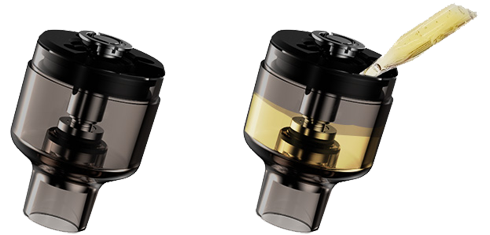 The e-liquid can easily be filled by removing the POD from battery. Please let the POD stand for 5 minutes, so the cotton in coil can be saturated with juice before using.
Note:
1. Please don't overfill and make sure the e-liquid level is between 10%-90%.
2. Please first drip a few drops of e-liquid directly into the wick of the coil to make it fully saturated before first use.
3. Please use proper PG/VG ratio liquids for this type of tank
How to fit / exchange coil
1. Switch off the device
2. Detache POD from the battery.
3. Remove the coil from pod and swop with new one
4. Now is the time to fill the POD with liquid. Let the POD stand for 5 minutes, so the cotton can be saturated with vape juice before using.
5. Mount POD in to the battery
Pod parameters:
• Capacity: 2ml
• Resistance: 0.15ohm (PnP-VM6) 0.3ohm (PnP-VM1)
Mod parameters
• Output Power: 5-80W
• Output Voltage: 3.2-4.2V
• Resistance: 0.1-3.0ohm
• Battery Capacity: 18650 – NOT INCLUDED – Please buy separate
Size: 124*32.5*28mm
Sub ohm device. Worth reading before buying:
This type of device is intended for the user with grater knowledge and experience. Coils used are below 1.0 ohm so that higher Wattage could be used. Before you use please read manual. Often, this kits are equipped with additional options that allow you to adjust Wattage.
For Sub ohm devices we recommend that you do not use liquids with nicotine higher than 6mg / ml and only good quality liquids with 30/70 PG / VG or higher VG. Devices of this type produce a lot more of vape, which results in a stronger hit to the throat (like higher nicotine in the basic device). Ask if you're not sure … we don't bite 😉
The kit contains:
• 1 x DRAG X Device
• 1 x DRAG X Replacement Pod (2ml)
• 1 x PnP-VM1 0.3Ω coil
• 1 x PnP-VM6 0.15Ω coil
• 1 x USB Type-C Cable
• 1 x User Manual